Office
$26.44
3.0%

from Q4 2019
Industrial
$7.72
2.0%

from Q4 2019
Retail
$19.64
2.0%

from Q4 2019
Tampa/St. Petersburg 1st Quarter Total Market Statistics
Market
Existing Inventory
Net Absorption
Deliveries
Under Construction SF
Quoted Rates
Total RBA
(Retail: GLA)
Vacancy %
Office
122,406,788 SF
7.7%
+265,953 SF
752,778 SF
2,091,868 SF
$26.44
Industrial
197,244,057 SF
5.1%
+2,491,501 SF
3,219,739 SF
3,303,085 SF
$7.72
Retail
169,972,119 SF
4.3 %
+1,053,219 SF
1,068,479 SF
1,010,412 SF
$19.64
Over 50,000 SF in New Accounts & 309,774 SF in Transactions
New Accounts & Major Deals
4040 Henderson Blvd
4040 S Henderson Blvd, Tampa, FL
5,025 SF Building
Sublease
View This Listing
12955 Seminole Blvd
12955 Seminole Blvd, Largo, FL
9,000 SF Building
Stars & Stripes Commerce Plaza
6520-6528 US Hwy 301 S, Riverview, FL
49,200 SF Retail Center
Telecom Gardens
13095-13099 N Telecom Parkway, Tampa, FL
10,000 SF Building
Lease
View This Listing
Atrium West
7771 W Oakland Park Blvd, Ft Lauderdale, FL
99,694 SF Office Park
7,665 SF LEASED
View This Listing
Republic Square
7430-7552 Universal Blvd, Orlando, FL
11.4 Acre Retail Redevelopment
60,473 SF SOLD
Telecom Business Center
12451-12499 Telecom Dr, Tampa, FL
27,841 SF Office Park
7,768 SF LEASED
View This Listing
Telecom Technology Center
12911-12937/1273-12985/13051 N Telecom Pkwy, Tampa, FL
120,720 SF Office Park
7,138 SF LEASED
View This Listing
Leasing & Property Management
University Professional Center
3500 E Fletcher Ave, Tampa, FL
99,048 SF Office/Medical Building
14,906 SF LEASED
View This Listing
Leasing & Property Management
Watermark 9
5440 Mariner St, Tampa, FL
24,025 SF Office Building
8,762 SF LEASED
View This Listing
CREC's Facilities Management teams in Buffalo and Pittsburgh secured two new exciting accounts in the first quarter – Crosby's Convenience Stores and Community Bank!
Crosby's Convenience Stores totals 84 sites across New York State and complements our extensive service footprint in the region. Our team will provide full Facilities Management services for these locations including all maintenance, budgeting, and vendor procurement. In addition to Crosby's, CREC will be providing Facilities Management services to a total of 28 Community Bank locations in Pennsylvania. Community Bank is headquartered in Greater Pittsburgh and has locations throughout Pennsylvania, Ohio, and West Virginia. The diligent work of our team and client-focused process was key to securing these contracts.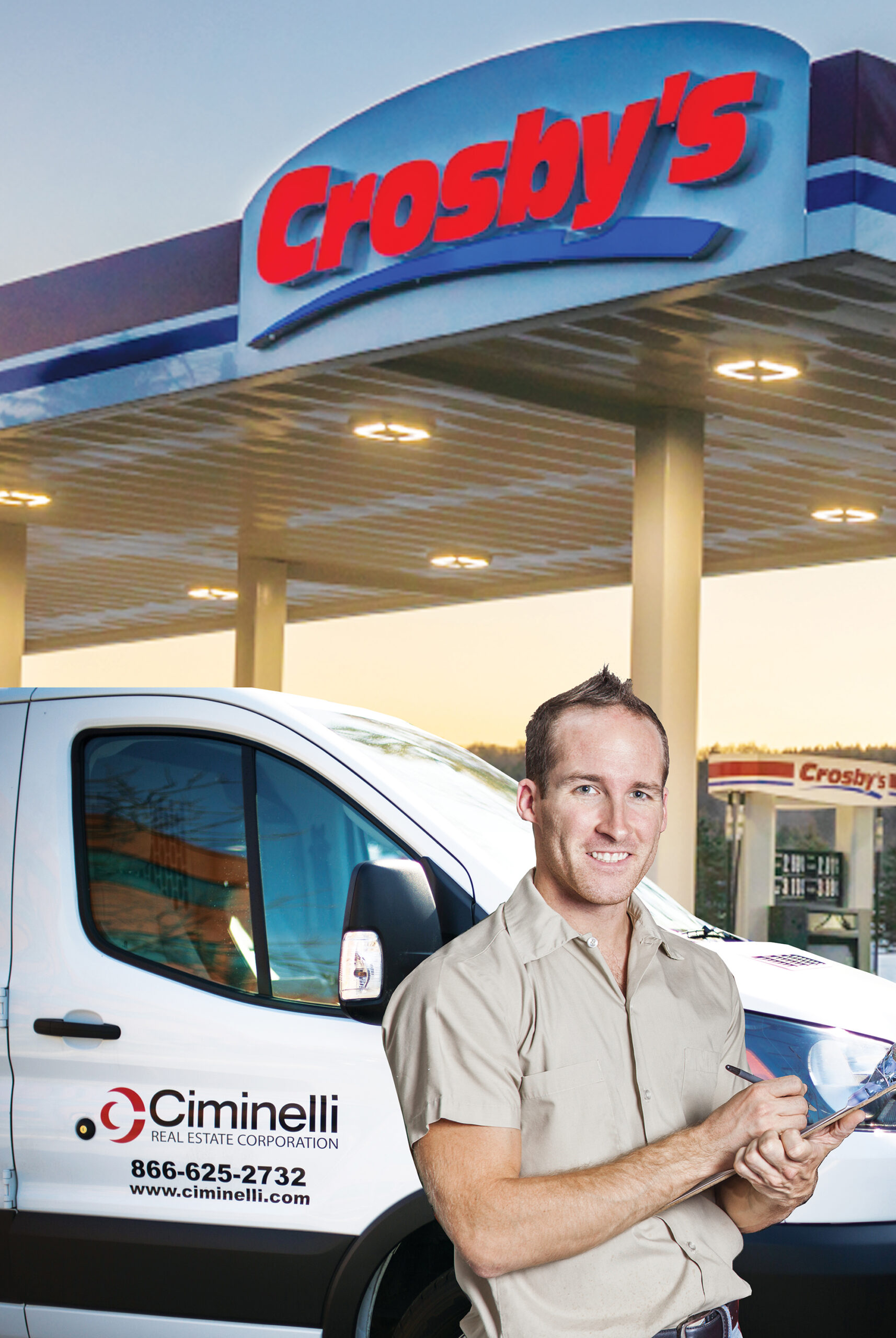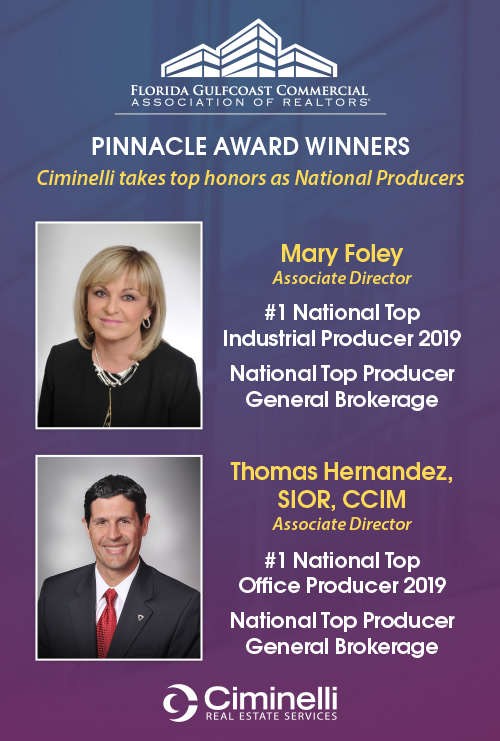 Ciminelli takes top honors as National Producers
The Florida Gulfcoast Commercial Association of Realtors (FGCAR) announced their 2019 Pinnacle Awards recipients honoring FGCAR members for top deals and top production at national and regional levels. We are proud to announce that two members of our Tampa team took top honors for their major achievements.
Mary Foley was honored with #1 National Top Industrial Producer as well as National Top Producer General Brokerage. Thomas Hernandez, SIOR, CCIM was honored with #1 National Top Office Producer as well as National Top Producer General Brokerage.
The Ciminelli Real Estate Services team has a proven track record of negotiating thousands of transactions, successfully increasing property values, and enhancing returns for our clients. Our extensive knowledge of real estate market trends and our strong relationships with national partners and industry leaders give us the ability to create and sustain market momentum for you.